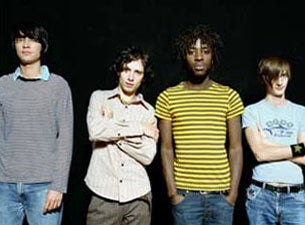 Bloc Party will release their first new album in four years, entitled FOUR, on August 21st via Frenchkiss Records. Produced by Alex Newport (The Mars Volta, At The Drive-In, Polysics), the album was recorded and mixed in New York City, and is the band's first full-length since 2008's acclaimed Intimacy.

Along with this exciting news, the band have announced a string of European, U.S. and festival appearances following a two year absence from the stage, which will give fans the first opportunity to hear new material from their forthcoming album, as well as classic tracks from the band's ten year history. The overwhelming demand for the band has resulted in sold out shows across the globe.
Frontman Kele Okereke expands on FOUR and the year ahead
HERE
.
Watch the FOUR album trailer, created by the band themselves,
HERE
.
Bloc Party has released three full length albums, including their Mercury Prize-nominated debut, Silent Alarm, helping to shape the sound of modern British guitar music. The announcement of the band's forthcoming album and return to the road mark the beginning of what will undoubtedly be a very special year.
U.S. tour dates:
7/30/12 Honolulu, HI @ The Republik
8/312 Los Angeles, CA @ Hard Festival
8/4/12 Chicago, IL @ Lollapalooza
8/5/12 Montreal, QC @ Osheaga Festival
8/7/12 New York, NY @ Terminal 5 *sold out*
8/8/12 New York, NY @ Terminal 5 *sold out*
8/9/12 New York, NY @ Terminal 5 *sold out*
8/11/12 Las Vegas, NV @ The Pool at The Cosmopolitan
8/12/12 San Francisco, CA @ Outside Lands
For More Information:
www.blocparty.com
http://www.facebook.com/blocpartyofficial
https://twitter.com/BlocParty
www.frenchkissrecords.com